June 2017 Market Update
Guest Columnist for Aptos Life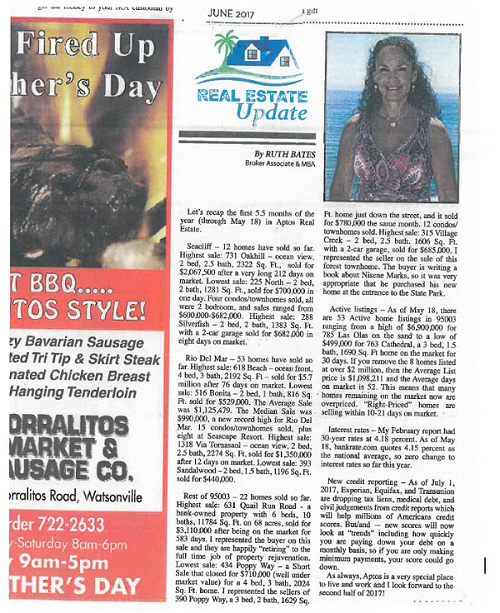 February 2017 Market Update
Guest Columnist for Aptos Life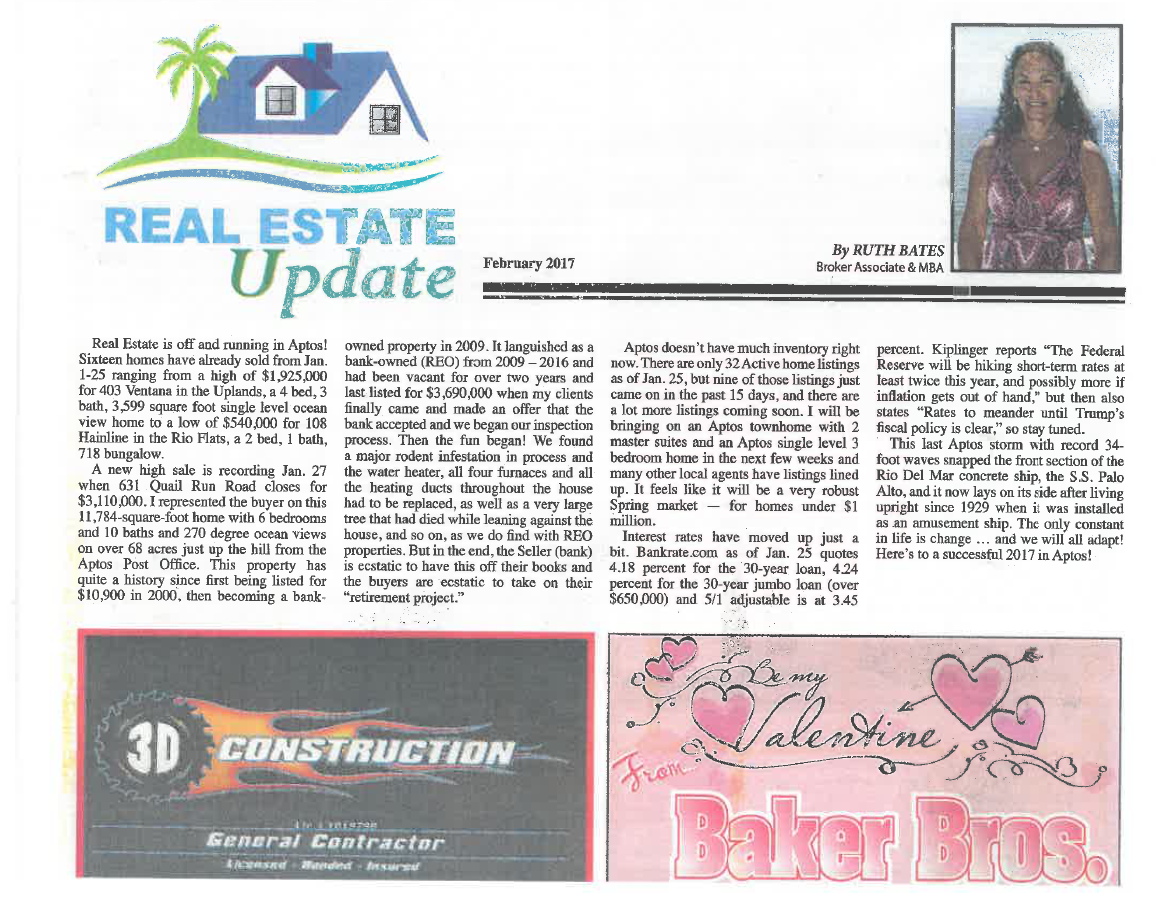 January 2017 Market Update
Guest Columnist for Aptos Life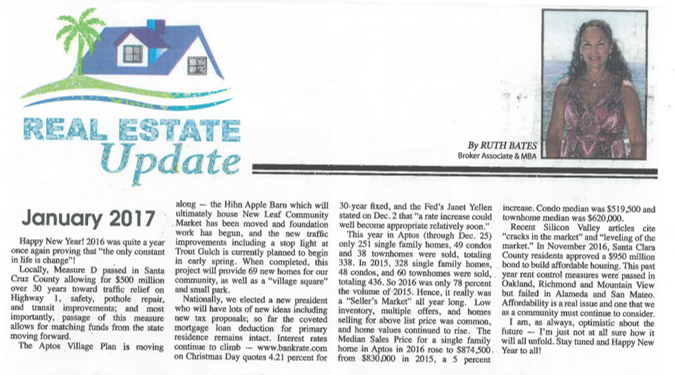 Happy New Year! 2016 was quite a year once again proving that "the only constant in life is change"!
Locally – Measure D passed in Santa Cruz County allowing for $500 million over 30 years towards traffic relief on Highway 1, safety, pothole repair, and transit improvements; and most importantly, passage of this measure allows for matching funds from the state moving forward. The Aptos Village Plan is moving along - the Hihn Apple Barn which will ultimately house New Leaf Community Market has been moved and foundation work has begun, and the new traffic improvements including a stop light at Trout Gulch is currently planned to begin in early Spring. When completed, this project will provide 69 new homes for our community, as well as a 'village square' and small park.
Nationally – We elected a new President who will have lots of new ideas including new tax proposals; so far the coveted Mortgage Loan deduction for primary residence remains intact. Interest rates continue to climb – www.bankate.com on Xmas Day quotes 4.21% for 30-year fixed, and the Fed's Janet Yellen has stated on 12/2/16 that " a rate increase could well become appropriate relatively soon".
This year in Aptos (thru 12/25/16) only 251 single family homes, 49 condos and 38 townhomes were sold, totaling 338. In 2015, 328 single family homes, 48 condos, and 60 townhomes were sold, totaling 436. So 2016 was only 78% the volume of 2015. Hence, it really was a "Seller's Market" all year long. Low inventory, multiple offers, and homes selling for above list price was common, and home values continued to rise. The Median Sales Price for a single family home in Aptos in 2016 rose to $874,500 from $830,000 in 2015, a 5% increase. Condo median was $519,500 and townhome median was $620,000.
Recent Silicon Valley articles cite "cracks in the market" and "leveling of the market". In November 2016, Santa Clara county resident approved a $950 million bond to build affordable housing. This past year rent control measures were passed in Oakland, Richmond and Mountain View but failed in Alameda and San Mateo. Affordability is a real issue and one that we as a community must continue to consider.
I am, as always, optimistic about the future – I'm just not at all sure how it will all unfold. Stay tuned and
Happy New Year to All!
---
---



November-December 2016 Market Update
Guest Columnist for Aptos Life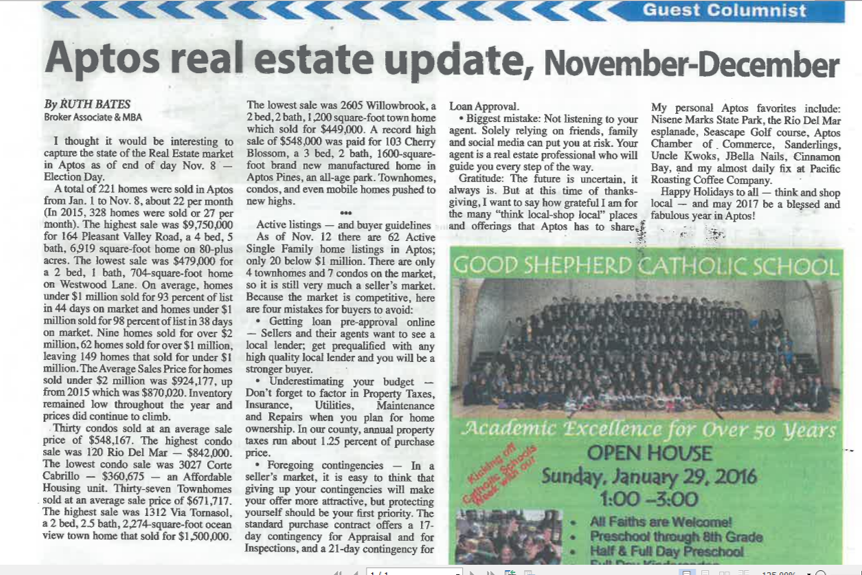 I thought it would be interesting to capture the state of the Real Estate market in Aptos as of end of day November 8, 2016 – Election Day.
221 homes were sold in Aptos from 1/01/2016-11/08/2016, about 22 per month. (In 2015, 328 homes sold or 27 per month). The highest sale was $9,750,000 for 164 Pleasant Valley Road, a 4 bed, 5 bath, 6919 Sq. Ft. home on 80+ acres. The lowest sale was $479,000 for a 2 bed, 1 bath, 704 Sq. Ft. home on Westwood Lane. On average, homes >$1Million sold for 93% of list in 44 days on market and homes <$1 million sold for 98% of list in 38 days on market. 9 homes sold for over $2 million, 62 homes sold for over $1 million, leaving 149 homes that sold for under $1 million. The Average Sales Price for homes sold under $2 million was $924,177, up from 2015 which was $870,020. Inventory remained low throughout the year and prices did continue to climb.
30 condos sold at an average sale price of $548,167. The highest condo sale was 120 Rio Del Mar - $842,000. The lowest condo sale was 3027 Corte Cabrillo - $360,675 – an Affordable Housing unit. 37 Townhomes sold at an average sale price of $671, 717. The highest sale was 1312 Via Tornasol, a 2 bed, 2.5 bath, 2274 SqFt. Ocean view town home that sold for $1,500,000. The lowest sale was 2605 Willowbrook, a 2 bed, 2 bath, 1200 Sq. Ft. which sold for $449,000. A record high sale of $548,000 was paid for 103 Cherry Blossom, a 3 bed, 2 bath, 1600 Sq. Ft. brand new manufactured home in Aptos Pines, an all-age park. Townhomes, condos, and even mobile homes pushed to new highs.
ACTIVE LISTINGS – AND BUYER GUIDELINES
As of 11/12/2016 there are 62 Active Single Family home listings in Aptos; only 20 below $1 million. There are only 4 townhomes and 7 condos on the market, so it is still very much a Seller's Market. Because the market is competitive, here are four mistakes for buyers to avoid:
Getting loan pre-approval online – Sellers and their agents want to see a LOCAL lender; get prequalified with any high quality local lender and you will be a stronger buyer
Underestimating your budget – Don't forget to factor in Property Taxes, Insurance, Utilities, Maintenance and Repairs when you plan for home ownership. In our County, annual property taxes run about 1.25% of purchase price.
Foregoing contingencies – in a Seller's market, it is easy to think that giving up your contingencies will make your offer more attractive, but protecting yourself should be your first priority. The standard purchase contract offers a 17-day contingency for Appraisal and for Inspections, and a 21-day contingency for Loan Approval.
Biggest mistake: Not listening to your agent. Solely relying on friends, family and social media can put you at risk. Your agent is a real estate professional who will guide you every step of the way.
GRATITUDE: The future is uncertain, it always is. But at this time of thanks-giving, I want to say how grateful I am for the many "think local-shop local" places and offerings that Aptos has to share. My personal Aptos favorites include: Nisene Marks State Park, the Rio Del Mar esplanade, Seascape Golf course, Aptos Chamber of Commerce, Sanderlings, Uncle Kwoks, JBella Nails, Cinnamon Bay, and my almost daily fix at Pacific Roasting Coffee Company.
Happy Holidays to all – think and shop local - and may 2017 be a blessed and fabulous year in Aptos!
---
---


July Market Update
July Guest Columnist for Aptos Life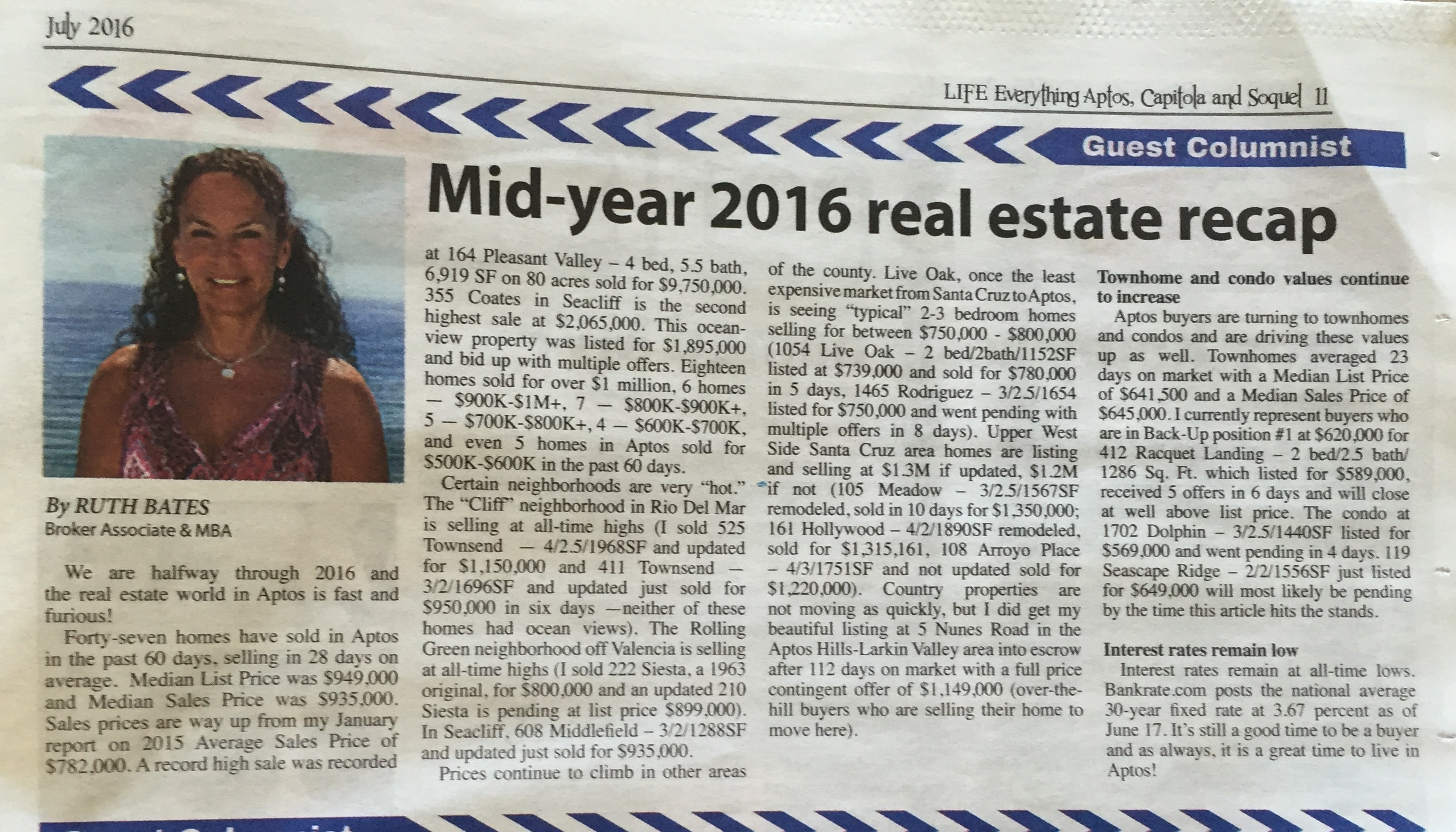 We are halfway through 2016 and the real estateworld in Aptos is fast and furious! Forty-seven homes have sold in Aptos in the past 60 days, selling in 28 days on average. Median List Price was $949,000 and Median Sales Price was $935,000. Sales prices are way up from my January report on 2015 Acverage Sales Price of $782,000. A record high was recorded at 164 Pleasant Valley-4 bed, 5.5 bath, 6,919 SF on 80 acres sold for $9,750,000. 355 Coates in Seacliff is the second highest sale at $2.065,000. This ocean view property was listed for $1,895,000and bid up with multiple offers. Eighteen homes sold for over $1 million, 6 homes- 900K to 1 million, 7 homes-800k-900k+, 5 homes-700 k-800k+, 4 homes-600k-700k, and even 5 homes in Aptos sold 500k-600 k in the past 60 days.

Certain neighborhoods are very "hot." The "Cliff" neighborhood in Rio del Mar is selling at all time highs (I sold 525 Townsend- 4/2.5/1968SF and updated for $1,150,000 and 411 Townsend-3/2/1696SF and updated just sold for $950,000 in six days-neither of these had ocean views). The Rolling Green neighborhood off Valencia is selling at all time highs (I sold 222 Siesta, a 1963 original, for $800,000 and an updated 210 Siesta is pending at list price $899,000). In Seacliff, 608 Middlefield-3/2/1288SF and updated just sold for $935,000.

Prices cotinue to climb in other areas of the county. Live Oak, once the lease expensive market from Santa Cruz to Aptos, is seeing "typical" 2-3 bedroom homes selling for between $750,000-$800,000 (1054 Live Oak-2 bed/2 bath/1152SF listed at $739,000 and sold for $780,000 in 5 days, 1465 Rodriguez-3/2.5/1654SF listed for $750,000 and went pending with multiple offers in 8 days).
Upper West Side Santa Cruz area homes are listing and selling at $1.3M if updated, $1.2M if not (105 Meadow – 3/2.5/1567SF remodeled, sold in 10 days for $1,350,000; 161 Hollywood – 4/2/1890SF remodeled, sold for $1,315,161, 108 Arroyo Place – 4/3/1751SF and not updated sold for $1,220,000). Country properties are not moving as quickly, but I did get my beautiful listing at 5 Nunes Road in Aptos Hills-Larkin Valley area into escrow after 112 days on market with a full price contingent offer of $1,149,000 (over-the-hill buyers who are selling their home to move here).
TOWNHOME & CONDO VALUES CONTINUE TO INCREASE
Aptos buyers are turning to town homes and condos and are driving these values up as well. Townhomes averaged 23 days on market with a Median List Price of $641,500 and a Median Sales Price of $645,000. I currently represent Buyers who are in Back-Up position #1 at $620,000 for 412 Racquet Landing – 2 bed/2.5 bath/ 1286 Sq. Ft. which listed for $589,000, received 5 offers in 6 days and will close at well above list price. The condo at 1702 Dolphin – 3/2.5/1440SF listed for $569,000 and went Pending in 4 days. 119 Seascape Ridge – 2/2/1556SF just listed for $649,000 will most likely be Pending by the time this article hits the stands.
INTEREST RATES REMAIN LOW
Interest rates remain at all-time lows. Bankrate.com posts the national average 30-year fixed rate at 3.67% as of 6/17/16. It's still a good time to be a buyer and as always, it is a great time to live in Aptos!
---
---

Interview with the Santa Cruz Sentinel

I was interviewed by the Sentinel for this week's piece on Santa Cruz Real Estate.....


Santa Cruz County median home price $700,000 in November

November Market Update
November Guest Columnist for "Aptos Life"

2015-to-date (thru 10/27/15) continued to be an up-year for Real Estate prices in Aptos. The Average Sales Price for a Single-Family Home in Aptos in 2015 has grown to $943,221 from $897,701 for 2014 and $776,962 in 2013. That is a 21% increase in two years! 271 homes have sold so far this year; 203 sold below $1 million (75% of total sales). 46 homes sold from $1.0-$1.5 million, 10 sold from $1.5-$2.0 million, 10 sold for $2.0-$3.0 million, 2 sold above $3M. The highest sale was $4,100,000 for 962 Via Palo Alto – single level ocean front home. The lowest sale was at 626 Bonita, a two bed, 1 bath, 856 sq. ft. home which was part of the Santa Cruz County Affordable Housing program and sold for $361,414.
The mix of homes sold under $1 million is $900K-$1M=34 homes (17%), $800-$900K=51 homes (25%), $700-$800K=43 homes (21%), $600-$700K=47 homes (23%), $500-$600K=21 homes (10%) and <$500K=7 homes (3%). Average days on market for these homes was 32 days.
On the condo/townhome front, 81 homes have sold so far this year. Condo Average Sales price is $538,380 on Average List price of $538,377 – so condos are selling at 100% of list price. Townhome Average Sales price was $583,037 on Average List price of $582,856 so Townhomes are selling at just a splish above 100% of list price. Average days on market for these homes is 31 days.
We are entering the "slow" season for real estate and Aptos is no exception. There were 57 homes sales in the 1st quarter (Jan-Mar), 99 sales in the 2nd (Apr-Jun), 99 sales in the 3rd (Jul-Sep) and only 16 sales so far in October – leading to an expectation of around 48 sales for Q4. There are only 68 Active Listings in Aptos now, and only 27 of those are under $1 million (which means there is only about one month of inventory on the market right now in the under $1 million range).
So – we have very little inventory on hand, and what we have is not very "affordable". Which brings me to the Aptos Village Plan, coming soon to our home town. This plan will provide 69 new homes that will be "affordable" by current Aptos standards. There will be six semi-attached single-family homes, 11 townhomes, and 52 condos and apartments over retail space. The Village will also include retail and office space, a "Village Green" for community gatherings, a New Leaf Community Market as the anchor store, and a small park managed by the county. This plan is over 10 years in the making and will be a great addition to our community.
Interest rates remain at all-time lows. Bankrate.com quotes 30-year Refinance rates of 3.87%, so if you are a homeowner and have not yet refinanced, now is the time. For new loans, the 30-year fixed rate is 3.80% and the 15-year rate is 2.85%.
El Nino is coming! For information about planning for El Nino this winter, go to www.ruthbates.com and click on the Community Blog tab at the top of the page. Aptos is a fabulous place to live and work and to participate in community. Let's all be prepared for winter.
---
---
Emergency Storm Prep
As Northern Californians, we are all desperately waiting, wishing and hoping for water to fall out of the sky. Any water. Here in Santa Cruz, we are beyond ecstatic at the sight of morning dew or a touch of fog coming in off the bay.
Well, the good news is that the National Oceanic and Atmospheric Administration has predicted a 90% chance of an El Nino winter. Excellent. We might actually get some rain. The bad news is that if it comes, it might not just be "some rain." It might be pretty extreme: as in flooding and landslides extreme. Mother Nature sure likes to remind us who is boss.
The following Before the Storm Tips are excerpted from from the City of Santa Cruz Public Works Department website. Get the full Emergency Storm Preparation Guide here:
http://www.cityofsantacruz.com/departments/public-works/emergency-storm-preparation/guide
Before the Storm

Store supplies at work, home, and car
in handy locations:
First aid kit and essential medicines
Food and water (packaged, dried, canned, non-cook, baby food and special diet food; enough water to last a week for all family members and pets)
Non-electric can opener
Battery operated portable radio, flashlights, and spare batteries (stored in watertight plastic bag)
Keep your car fueled - if electric power is cut off, filling stations may not be able to operate.
Purchase sandbags while supplies are plenty
Keep plywood, plastic sheeting, lumber and other emergency building materials handy for waterproofing
Cash and credit cards
Keep wrenches/tools handy to shut off gas and water
Charge cell phones and computer batteries and back-up batteries
Sturdy shoes
Know safe routes from your home or office to high, safe ground.
Teach all family members how and when to turn off gas, electricity, and water.
Winterize your house, barn, shed or any other structure that may provide shelter for your family, neighbors, livestock or equipment.
Install storm shutters, doors and windows
Clear roof and rain gutters.
Repair roof leaks.
Be sure that all household hazardous materials are stored indoors.
Collect leaves and debris, from your yard and your driveway, so that they won't get washed or blown into the street gutters and storm drains.
Secure garbage can lids. Be sure that recyclable items are inside the recycling bins. Loose debris and litter are often blown into the street and end up clogging gutters and polluting our waterways.
If you are doing any construction work or remodeling at your home, be sure that bags of cement and plaster, loose materials, and debris are stored inside or covered properly. Otherwise, rain and wind can carry these materials into the street or storm drains.
Don't apply pesticides or herbicides before it rains. Rain can carry these toxic chemicals into our streets and storm drains.
Develop an Emergency Communication Plan
In case family members are separated from one another during floods or flash floods (a real possibility during the day when adults are at work and children are at school), have a plan for getting back together.
Ask an out-of-state relative or friend to serve as the "family contact."
After a disaster, it's often easier to call long distance.
Make sure everyone in the family knows the name, address, and phone number of the contact person.
Make sure that all family members know what to do after a flood or flash flood.
Teach children how and when to call 911, police, fire department, and which radio station (KSCO-AM 1080) to access for emergency information.
Know ahead of time what you can do to help elderly or disabled friends, neighbors or employees.
If you think you might want to volunteer in case of a disaster, now is the time to let voluntary organizations or the emergency services office know--beforehand.
For an in depth explantion of El Nino and more tips on how to prepare your home for it, go to the website below and scroll down to "El Nino is coming!"
http://www.geodisclosure.com/